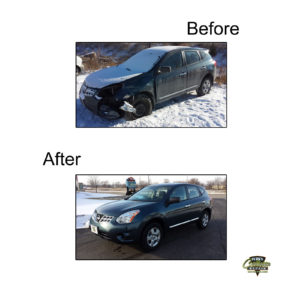 Spring is finally here, but Winter isn't far behind us and it kept our Minooka Body Shop very busy, one such example of that is this Nissan Rogue Collision Repair.
Turk's Collision Repair in Minooka provides auto body repair for all popular makes and models, including Nissan.  The Rogue is a compact sport utility vehicle design with good safety ratings and fuel mileage. In 2010 the Rogue was awarded Consumers Digest's Automotive Best Buy Award and received the U.S. National Highway Traffic Safety Administration (NHTSA)'s Highest Side-Impact Safety Rating (five stars). Auto news .com calls Rogue recently reported that the Nissan Rogue is an ongoing surprise!
The hot-selling Rogue made Nissan history in 2017, becoming the brand's first nameplate to top 400,000 U.S. sales in a calendar year. Autonews.com
First introduced in 2007, the Nissan Rogue is over a decade old and competes with the Toyota Rav4 and the Honda CR-V. The Rogue's popularity has surged over the years and according to Autoweek, the "The best-selling "car" in the U.S. isn't a car at all, and goes on to say the Nissan Rogue crossover dethrones Toyota Camry for top-selling non-pickup spot. Read more: autoweek.com
Crossovers accounted for 33.9 percent, or 1.4 million, of the 4 million vehicles sold in the first quarter of 2017, according to the Automotive News Data Center.
For more information on the newest Nissan Rogue visit the Official Nissan Rogue Webpage.
For Nissan Rogue Collision Repair and Auto Body Repair, contact Turk's Collision in Minooka.