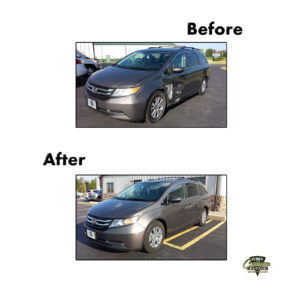 Turk's recently performed a Honda Odyssey Collision Repair, that provided a good before and after photo opportunity to demonstrate Turk's auto body repairs.
The Honda Odyssey has been one of the most popular minvans in America for over twenty years running. Late model Honda Odyssey mini vans scores 5 stars in overall safety according to the NHTSA.
"The Honda Odyssey has long been popular in the minivan segment for its above-average driving experience as well as its many standard and available features. As with all Honda models, the Odyssey comes with the full suite of passive safety features including front and side airbags. The EX and higher grades are available with LaneWatch warning. Other active safety features such as forward collision warning and lane departure warning are available on EX-L and higher trims. Top-spec Touring Elite is available with a blind-spot warning system." Source – Motor Trend Honda Odyssey Review
When deciding on an auto body repair shop for a Honda Odyssey Collision Repair, we encourage you to visit Turk's Collision Minooka, for a free estimate and consultation. If there is auto insurance involved, Turk's can assist you and answer most questions you'll have regarding the claim and repair.
"Quiet, comfortable, flexible, and packed with tons of modern technology, the Honda Odyssey has a formidable family-friendly legacy." Source – Car & Driver Honda Odyssey Review.
Turk's Collision Repair in Minooka provides passenger vehicle and light truck auto body repairs in the greater Joliet area. Turk's Collision Repair is a direct repair for popular auto insurance carriers, works with all standard auto insurance companies and provides a lifetime guarantee on workmanship. Turk's has built a reputation of high quality collision repairs over the past decade. If you're involved in a collision, whether its your insurance or someone else's insurance covering the damage, YOU have the right to choose your repair shop!
For more information on the Honda Odyssey, visit the Official Honda Odyssey web page.
For Honda Odyssey Collision Repair, Contact Turk's Collision Repair in Minooka.