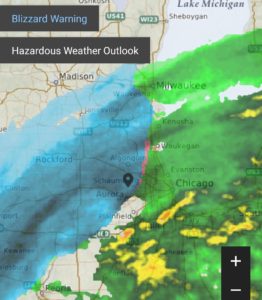 As most of you know, there's a Minooka Channahon Blizzard Warning, (as well as the rest of Chicago Land).
The wild photograph on the header is from a past snowstorm reported by Eagle Tribune photo by Tim Jean.
When it comes to winter driving, especially during a blizzard, the chances of getting into a vehicle accident are much greater. It is more important than ever to drive with extreme caution in this weather.
If you can wait to drive until the blizzard is over and the roads are cleared please do so. If you must drive avoid distractions, this is critical with regards to cell phones, food and passengers.
If you do find yourself involved in an accident, try to remain calm. Definitely exchange insurance information, current contact info and file a police report. When it comes to filing an insurance claim, it will expedite the claim process if you have all of that information.
If your vehicle needs to be towed, it will be towed from an accident scene to a tow yard by a tow company dispatched by the police. Make sure you get the tow company and storage lot info from the officer on the scene, or the tow truck driver. You will need that info later so you can release the vehicle to be towed to a repair shop by your insurance company's tow service, or the body shop's preferred tow company. During inclement weather expect a delay in tow services because they are very busy and clearing accident scenes is their priority. Be patient with the tow company.
If your vehicle is in need of repairs you can have any body shop you choose perform the work. Your insurance company may have some recommendations, but by law they cannot tell you where your car must be repaired. That's your choice. The insurance company may even try to scare you into taking the car to the shop of their choice, by telling you if you bring it to another shop there's no guarantee and you will pay more out of pocket. None of that's true obviously, but its a tactic that's employed by the auto claims personnel to get you to bring your car to a shop that guarantees the insurance carrier the best deal. Its your vehicle however and you have the right to choose where its repaired.
If filing a claim it is always great if your insurance agent is willing to help, but everyone's claim eventually goes through the insurance carrier's claim department. The phone number for the Auto Claims is typically on your insurance card and they can provide you with services around the clock typically, including advising you of next steps and towing/rental info and setup.
Keep safe during the Minooka Channahon Chicago Blizzard.
If you require our auto body collision repair services call us at 815-521-4588, via email at [email protected] or visit us in person for a collision repair estimate at 508 Twin Rail Drive Minooka IL 60447