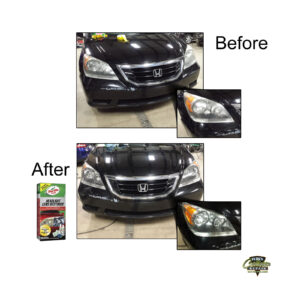 Are your headlamp lenses old, hazy and yellowed? Headlamp restoration may be a great way to bring some clarity and better illumination as well as improving the appearance of your vehicle!
Turk's Collision Repair offers varying levels of headlamp restoration, depending on the severity of the degradation and your budget. If your headlamps are worn and dull looking, any improvement may provide better visibility at night, as well as just making your vehicle look better in general. From our experience and the number of headlamps we've restored for customers over the years, some can be improved a great deal using a simple "headlamp restoration kit", such as the TURTLE WAX HEADLIGHT LENS RESTORER KIT, or it may be necessary to completely sand and clearcoat your headlamps.
Old, worn-out, hazy and dim headlamps can be greatly improved for much less than replacing them!
Can Headlamps be Restored to Look Brand New?
Whether or not your headlamps can, or should be restored depends on various factors, such as the quality of the original lamp, the extent of the wear and obviously the cost involved. Most brand new replacement headlight assemblies are fairly expensive and will usually range from a couple of hundred dollars each, to several thousand dollars each depending on the headlight style and vehicle. Because of the cost to purchase new headlights and have them installed, it is always a good idea to see if your original headlights can be restored.
How Much Does it Cost to Restore Headlamps?
The cost to restore your lights using a headlamp restoration kit is very affordable and is something you can even do yourself if you're so inclined. Popular Mechanics published an article  on The Best Headlight Restoration Kits in case you're into the DIY approach.  If you choose to have Turk's perform the service, we only charge for the kit and a reasonable amount of labor depending on how long it takes to do it. We will often perform this service for customers when their vehicle is at the shop for auto body repairs. A typical set of older headlights will take between 1 to 2 hours to repair. *Important disclaimer: Turk's will attempt to improve the appearance of your worn headlight lenses using an off the shelf product, such as Turtle Wax which we've found to give very good results and is also cost effective. This is NOT a guarantee that they will look brand new, or any warranty on how long they will last, (they are still old worn-out headlamps after all). On the upside, in most cases there is a very good chance they will be much better than they were and the results will last quite awhile.
The cost to restore your headlamps by sanding and clear coating is a more expensive proposition than the headlamp restoration kit method, but typically less than the cost to replace headlights. The process involves removing your existing headlamp assemblies, sanding them and finally clear-coating them with the same commercial grade clearcoat that's utilized on vehicles during the collision repair and refinishing process. Once the freshly clear coated headlamps are cured, they are reinstalled and aimed. Typically this method yields superior results and the lights look new again and those results last a very long time. The cost for these services needs to be estimated and evaluated on the spot, because not all headlamps involve the same labor to remove and restore. Plan on us having your vehicle at least a day or more. If you'd like us to replace your headlamp bulbs, turn signal bulbs and park lamp bulbs, we can do that as well. To provide an estimate, we will need to see your headlamps and know the VIN and/or the year, make and model of your vehicle.
Contact Turk's for more information and pricing on headlamp restoration services.